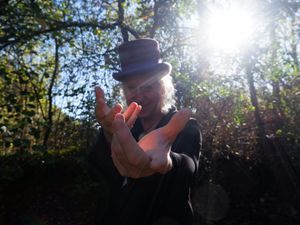 Biography
Sam Stoner was born exactly one year before his first birthday in Northampton, England. 
On top of this anomaly, and the fact that he was red haired and very tall,  around the age of 7, he felt like he was starting to grow an extra limb. Everyone was worried. 
It turned out that this extra limb was a guitar. 
Everyone got more worried. 
The world was pretty difficult to understand so he found refuge in his passion for birds and nature. His ear for melody grew from birdsong. 
He discovered Ravel's Bolero and lay dreaming of deserts and exodus. 
The melodies caught fire in 1972 and became excitingly personified when David Bowie, Marc Bolan and Alice Cooper lit up the TV screens and so many teenage hearts. 
(Sam's doppelgänger as a boy can be seen dancing on his bed to "Cosmic Dancer" in the opening images of the film Billy Elliot.) 
The sounds of Tangerine Dream, Pink Floyd and Brian Eno sent him soaring into space where he also got singed (belatedly) by the flames of Jimi Hendrix. 
The extra limb continued to grow (and worry everyone), taking up more and more room and time and emanating more and more decibels. 
After a year at Northampton School of Art (where the princes of Goth: Bauhaus were fellow pupils), and in a desperate need to escape from all expectations, he grew wings and flew to Ravel's country of birth : France. 
  
The melodies followed him, this time : his own. 
He got his first band together, Evening Legions, in Rennes, Brittany, the ghost of which still apparently haunts the region! 
He got hooked on performing and sharing the vibes. 
Rennes is also where he met lifelong friend Pascal Obispo, who joined him as a bass player, and who has since become an extremely successful French music artist who Sam has accompanied and collaborated with during the last 30 odd years. (including projects with Youssou N'Dour on his album "Nothing's In Vain", the 2002 World Cup "Live For Love United": AIDS benefit recording, and playing the role of a psychedelic vagabond in the stage musical Adam & Eve The Second Chance and so many huge tours). 
He received (unexpected!) propositions to accompany other artists on the French music scene such as Philippe Pascale (ex-Marquis de Sade), Calogero and Zazie… 
He produced a world music album for the Franco-Ecuadorian singer Huitzi and is in the process of producing and arranging an album for the french duo Bo-X-Perience. 
Never abandoning his own projects, he has released several recordings : Sam Amazon & The Silk Explosion,  "Massage Of Sound", Sam Stoner/Glow "Never Too Late", ViibraMan's "Greatest Hits" and Sam Stoner & The Heart Party's "We Are Love".  Gigging either solo or with various bands. 
Sam Stoner's latest album "Love Your Life" was in the making over the last three years, mostly in a state of complete solitude, marooned on his little green island in the South Of France. 
The 13 little sonic films are inspired by his taste for contrasts, the wildlife that surrounds him and his seventies roots with an organic flavour… crashing through passions, loves and pains, defending freedoms and yearning for human unity… while voicing his concern about all kinds of obscurantism. 
His new band is in the making : Electric Nectar ! Joined by friends Denis Bielsa on  drums, Bao Falco on bass and Alexis Kowalczewski : percussion and clarinettes. High on melody and atomic contrasts they're gonna burn their way into our hearts through our ears and through our feet.
Sam Stoner est né exactement un an avant son premier anniversaire ā Northampton, Angleterre. 
En plus de cette anomalie, et le fait qu'il était roux et très grand, autour de l'âge de 7 ans, il avait l'impression qu'il lui poussait un membre supplémentaire. 
Tout le monde était très inquiet. 
Il s'avère que ce membre supplémentaire était une guitare. 
Tout le monde s'est encore plus inquiété. 
Dans ce monde qu'il trouvait plutôt incompréhensible, il se réfugiait dans sa passion pour les oiseaux et la nature. Son oreille pour les mélodies vient des chants d'oiseaux. 
Il découvre le Boléro de Ravel et rêve de déserts et d'exodes. 
Les mélodies ont pris feu en 1972 et sont devenues excitantes et personnifiées avec l'apparition de David Bowie, Marc Bolan et Alice Cooper qui illuminaient les écrans de TV et tant de cœurs de teenagers. 
(On peut apercevoir le sosie de Sam en petit garçon en train de danser sur son lit sur "Cosmic Dancer" dans les images d'ouverture du film Billy Elliot) 
Les sons de Tangerine Dream, Pink Floyd et Brian Eno le catapulte loin dans l'espace où il se fait aussi cramer (sur le tard) par les flammes de Jimi Hendrix. 
Le membre supplémentaire continue de pousser, et d'inquiéter, prenant de plus en plus de place et en émanant de plus en plus de décibels. 
Après un an dans l'école de beaux arts de Northampton (où traînaient en même temps les princes du mouvement Gothique : Bauhaus), pour échapper aux attentes, il s'est fait pousser des ailes et s'est envolé pour le pays natal de Ravel : La France. 
Les mélodies l'ont suivis, cette fois-ci les siennes. 
Il a formé son premier groupe, Evening Legions à Rennes en Bretagne, dont le fantôme hante encore la région, il paraît! 
Il est devenu accro à la scène et au partage des vibrations. 
Rennes est aussi là où il a rencontré son ami Pascal Obispo, qui l'a rejoint en tant que bassiste et qui depuis est devenu l'artiste à succès qu'on connait et que Sam accompagne et avec qu'il collabore depuis plus de trente ans (incluant des projets avec Youssou N'Dour sur son album "Nothing's in Vain, la chanson caritative contre le SIDA  "Live For Love United" et a joué le rôle d'un conteur-vagabond psychédélique dans le spectacle musical "Adam & Eve Le Seconde Chance, en plus de participer à de grosses tournées. 
Il a reçu des propositions (inattendues !) d'accompagner d'autres artistes de la scène musicale française tels que Philippe Pascal (ex-Marquis de Sade), Calogéro et Zazie… 
Il a réalisé un album de world music pour le chanteur franco-équatorien Huitzi et est en train de terminer la production et réalisation d'un album pour le duo Français Bo-X-Perience. 
N'ayant jamais abandonné ses propres projets il a publié plusieurs enregistrements : "Sam Amazon & The Silk Explosion", "Massage Of Sound", Sam Stoner/ Glow "Never Too Late", Viibraman's "Greatest Hits" et Sam Stoner & The Heart Party "We Are Love". 
Faisant des concerts soit en solo ou avec divers formations. 
Le dernier album de Sam Stoner, Love Your Life s'est crée pendant les derniers trois ans, plutôt dans un état de solitude complete, naufragé sur sa petite île de verdure dans le Sud de la France. 
Ces 13 petits films sonores sont inspirés par son goût pour les contrastes, la faune sauvage qui l'entoure et ses racines de années 70, avec une arôme plutôt organique… 
des collisions entre des passions, des amours et des peines, tout en défendant les libertés fondamentales, ses aspirations vers une unité humaine et en exprimant ses inquiétudes à propos de toutes formes d'obscurantisme. 
Il est en train de se préparer à la scène en montant son nouveu groupe : Electric Nectar, composé de Denis Bielsa à la batterie, Bao Falco à la basse et Alexis Kowalczewski aux percussions et clarinettes.